Someone I know was trying to get a mutual friend of ours to invest more money in her business. A legitimate business that I can boldly say is full of potential, but she was unable to convince her because according to our investor friend, she's got another startup that is giving her more Return On Investment (ROI).
She didn't lie. She was getting 10% interest on her capital monthly! That is 120% ROI in a year! What company is that? I asked in shock. Imagine Global, I was told. Hmmm
120% ROI is enough reason for us to suspect that the company was fraudulent, but it seemed like a legitimate business so all efforts to convince our investor friend that no legitimate startup business that is barely 3-years old can conveniently pay 120% ROI to investors in a year proved futile. Imagine Global Solutions Limited presented itself as a registered microfinance institution focused on fostering financial inclusion by providing funding to market men and women.
Yes, It is a money lender offering loans between 10k and 100k to market women with a 30% interest rate for a 30 – 40 days cycle. First of all, I thought that was wicked. 30% interest rate for poor market women trying to make ends meet? Is that helping? I wouldn't even invest because of that alone.
Secondly, how many market men and women would be willing to accept such loans except in dire situations? Also, the company would not even give them a reasonable amount of money because of collateral issues, so really, how many people can they give loans to? And how many people would be willing to collect a loan with 30% interest for the company to promise such an outrageous return on investment? The maths didn't add up, but our friend, like many others, refused to listen.
Funny enough, I think the founder of IMG started legitimately and honestly wanted to grow to a reputable financial company but for the love of money. The ROI promised and fulfilled to a few investors attracted so many other investors, and they couldn't refuse. Who would say no to such huge amounts of money? It would take a lot of discipline that they obviously didn't have. I'm guessing, at a point, they probably had so much money from investors lying around and so little going out as loans to market women. There was not enough inflow from profits that they probably started paying investors with money from new investors. Isn't that a Ponzi scheme? Few months down the line, our friend started hearing "gists" about the founder's wife throwing lavish parties at Landmark, and she began to fret. Probably why she refused to reinvest her capital when she was asked to. And if like her, many others refuse to reinvest, and new investors become skeptical because of the rumours about parties and limited profits, the inflow would stop eventually, and they would be in debt. Probably why the founder and his wife absconded, and according to the rumours, with about 22 Billion Naira.
Our friend was lucky, well, she was also smart enough not to put in too much money because she knew at the back of her mind that the interest was unreal. She got her interests monthly that added together was worth her capital within a year, after which the CEO of IMG Solutions, whom she knew personally, asked her if she had more money to invest. She said no, and that was when things started to go sour. First, he threatened to reduce her percentage, then he started defaulting in the monthly payments, and then stopped paying altogether.
She was lucky indeed. At least she got back the sum of her capital and a little bit on top. Most of the other investors that matched to the IMG office with her to protest after the founder, Bamise Ajetumobi, and his wife Elizabeth Ajetunmobi had absconded weren't so lucky.
I know about someone who lost over a 100million, another over 200million. Someone even collected a low-interest loan worth over 200 million and invested it with IMG. It's all gone. Another person I know became a middleman and got people to invest through her. She collects 10% interest from IMG Global and remits the agreed 7% to her investors. This arrangement did not even last 3months before the fraudulent IMG CEO absconded.
I was shocked when I learned that people could put such a ridiculous amount of money into something that was clearly a Ponzi scheme. That was when I got the info that a company invested about 500million Naira! Why on earth will a company invest its capital in a Ponzi scheme??? Oh, the height of greed! If as the founder/CEO of a company, you know how difficult it is to generate 10% ROI monthly, would you not know better than to trust someone who said he could? Is that not enough to raise suspicion?
I concluded that the company that invested 500 million was a "money miss road". No reputable company would invest in such business, I said. So imagine my shock when I heard the rumors that Piggyvest, GT Bank, and others invested in it. Lol. Such reputable companies? I do not want to believe it. I need proof, please
I know you may be wondering why such rich and intelligent people would trust such a company, and I'll tell you why. Apart from greed (yes, it is greed, I'm sorry), the reason the company was trusted at least by the people I know, is because the founder is a former employee of a big reputable bank in Nigeria (I won't mention the name yet), and he started his company while still working for his former employer. IMG was about 3-years old before he quit his bank job to concentrate on it.
Whew! That's the gist for now. When I know more, I'll update this post.
Update:
The investors of Imagine lenders have a WhatsApp group where they communicate and strategize on how to get their money back. In that group, they pass information around, and I got wind of some of that info.
They have shared the pictures and details of all the staff members of the company in the WhatsApp group with a message to hold any of them to ransom if found. One of the staff members said to be an advisor to the founder and his wife, and also a former employee to the same bank the founder worked for, is said to also be on the run.
Another information shared in the Whatsapp group was about activity in the founder's account as they have people investigating and monitoring all his assets. For example, a transaction was reported to have occurred in his account on the 18th of October. He was said to have made payment for school uniforms in the UK, where he is believed to be currently hiding.
Another vital piece of info making the rounds in the WhatsApp group is the company's list of investors that sources claim to have some notable names. Sadly, it allegedly includes Piggyvest. Of course, I didn't see the list, so this is still just a rumor, but I find it shocking that they were mentioned at all. As it turns out, I am actually late to this particular piece of information because according to a source, the list of investors had been out for a while, and it is probably how the rumour about Piggyvest's involvement started in the first place.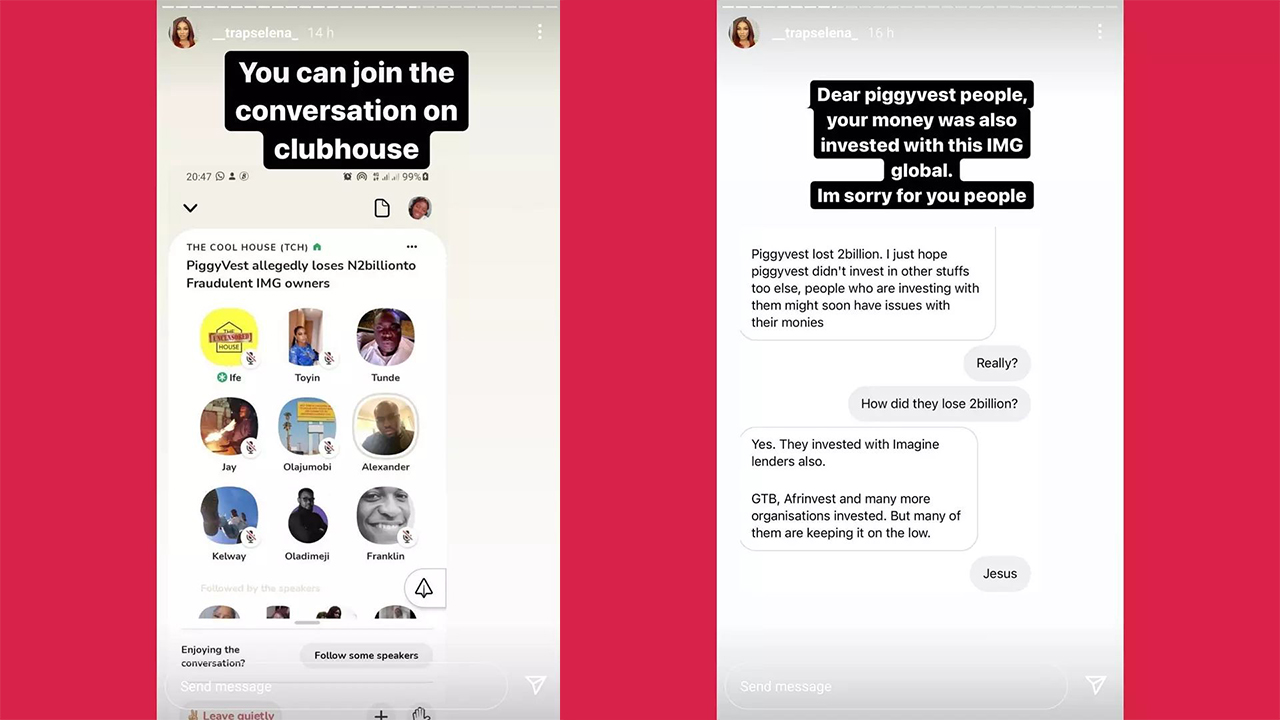 However, Piggyvest debunked the rumors yesterday, the 18th of October. In a statement sent to its customers, it said it never invested in Imagine Global, and assured customers that their funds would never be compromised, adding that they should disregard the rumors.